Have your Christmas credit card bills hit your mailbox with a thud?
If you are barely holding your head above water paying rates of 21 – 29%, we may help you avert a personal financial crisis by consolidating your high-interest debt into one manageable monthly payment.  By doing so, you will:
Benefit from lower interest rates.

Enjoy lower monthly payments.

Make just one monthly payment.

Improve your credit score by making payments promptly. 
Below is an example of a typical debt consolidation: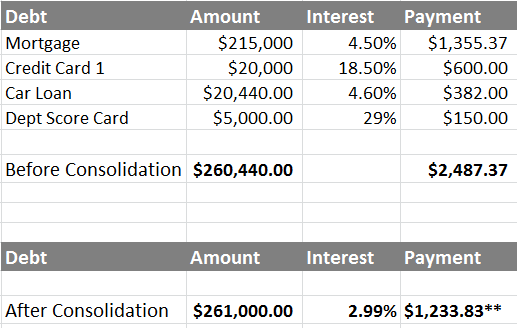 Monthly savings of $1,253.54!!

** based on rate of 2.99% (OAP) and 25-year amortization
Disclaimer: All figures presented above are hypothetical and will vary depending on the needs and requirements of the homeowner.  
As a licensed broker, I have your best interests at heart and will ensure you get the best mortgage product at the best possible rate.
CALL or E-MAIL me, 647-201-0167 or adoria@mtgarc.ca